This month sees the launch of a quarterly update of drone-related news of interest to public safety agencies. What questions do you have any UAS operations? Email editor@police1.com.
Law enforcement leads UAS use
Law enforcement agencies lead the way in the use of unmanned aircraft systems (UAS) in the United States at 42%, followed by the fire service at 38% and emergency management at 12%, according to a DRONERESPONDERS study.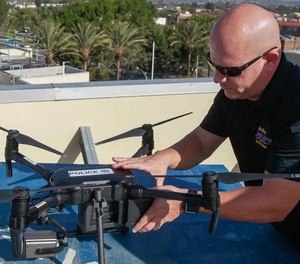 The same study revealed that there are more than 17 public safety UAS use cases making public safety one of the most diverse segments in the drone community. Law enforcement missions include, but are not limited to, tactical operations (SWAT, active shooter and hostage situations), scene reconnaissance and overwatch, traffic crash reconstruction, drug enforcement, forensic analysis, civil unrest overwatch and indoor flights to safely clear rooms.
The survey also found that law enforcement UAS programs, more often than not, fly other non-law enforcement missions such as searching for lost persons, damage assessments, wildfire reconnaissance, building fires and hazmat incidents.
Drone as a First Responder Program
One of the best examples of how to successfully implement a public safety UAS program is the Chula Vista (California) Police Department's Drone as First Responder (DFR) program. What is unique to this program is that a drone is launched at the time of dispatch to all priority 1 and 2 calls.
Since October 2018 with 5,200+ responses, the results are impressive from a safety, effectiveness and efficiency perspective with drones arriving first 2,434 times within an average of 302 seconds, assisting with 644 arrests and avoiding the need for a patrol unit 1294 times. Because of the program's success, a national DFR Working Group has been formed to provide guidance to other public safety agencies interested in starting a program in their community.
If you are interested in participating in this DFR Working Group, e-mail Chula Vista PD Captain Don Redmond. For more information on Chula Vista PD's DFR program, click here.
Tactical Beyond Visual Line of Sight Waiver
In 2020, after nearly a year of collaboration, the Federal Aviation Administration (FAA) approved a new Tactical Beyond Visual Line of Sight (TBVLOS) waiver. This is significant in that it allows law enforcement and public safety remote pilots to fly beyond visual line of sight (BVLOS) during dangerous missions such as a SWAT, active shooter or similar tactical operations.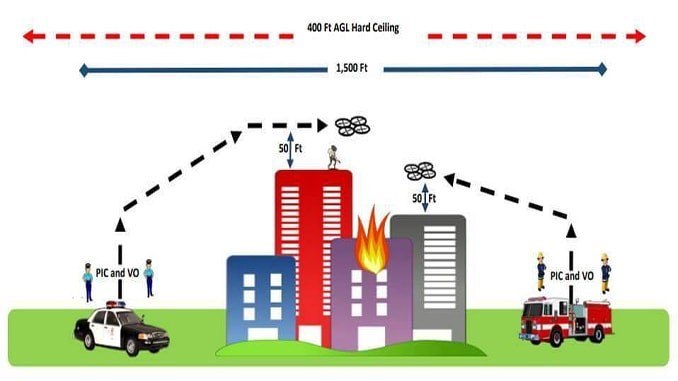 The TBVLOS waiver covers:
Operations within 50 ft. of a building
Operations not to exceed 400 ft. AGL (or highest grid ceiling)
Operations 1500 ft. lateral from the remote pilot.
Anything beyond these parameters requires a Special Government Interest (SGI) waiver.
Before the waiver, the remote pilot and visual observer were required to be within visual line of sight, which would have possibly put them in the direct line of gunfire. This was a collective effort of the Chula Vista (California) Police Department, Pearland (Texas) Police Department, York County Fire/Poquoson Sheriffs Office, Skydio and DRONERESPONDERS.
A TBVLOS waiver template is available in the DRONERESPONDERS Online Resource Center. Over 100 public safety agencies have successfully used this template and been approved for this waiver.
To obtain the TBVLOS waiver, departments are required to have an FAA Certificate of Authorization (COA). Many law enforcement agencies have elected to operate under Part 107 only, which for now will not allow a TBVLOS waiver. Departments may wish to consider applying for a Blanket COA, which is relatively easy and only takes about three days to obtain.
New FAA Rules (Remote ID, Ops Over People and Night Operations)
On January 15, 2021, the FAA issued new UAS rules published in the Federal Register. These rules include Remote ID (RID), Operations Over People (OOP) and Night Flight Operations.
Remote ID (RID): The RID rule will require all aircraft to broadcast their unique identifier. When fully in place, this will allow law enforcement to use a smartphone or tablet and receive this ID, the location of the aircraft and the controller. While the unique identifier will not provide personal info, information can be obtained through the FAA if needed.
Operations Over People (OOP): The OOP rule will define weight/aircraft design requirements in order for UAS to fly over people. For those departments working with COAs, they already are authorized to fly over people and for night operations.
Night Flight Operations: This rule focuses specifically on those operating under Part 107. Effective 60 days after being entered into the Federal Register (January 15, 2021), this rule will go into effect. Current Part 107 night flight waivers will sunset. Those wishing to continue with night operations will be required to take training provided on the FAA website and pass a knowledge test. There is no cost for this online training. To watch a 90-minute recorded webinar with the FAA's Mike O'Shea on the new rules, click here.
FAA changes initial and renewal Part 107 certification process
Another positive move by the FAA changes the process on how to acquire the initial Part 107 certification as well as future two-year renewals. This too goes into effect 60 days after January 15, 2021. Presently and until the aforementioned date, an individual has to go to an authorized testing center and pay approximately $150 and repeat the process every two years. After the effective date, a new Part 107 applicant or renewal can take the online training and test at no cost.
DOWNLOAD: How to buy police drones (eBOOK)
About DRONERESPONDERS
DRONERESPONDERS is an award-winning nonprofit program supporting public safety UAS programs with over 3,400 members and participation from 47 countries. Membership is free at DRONERESPONDERS.ORG where you will find an online resource center with over 500 documents (SOPs, best practices, training resources, policy manuals and reports), a discussion forum, public safety UAS studies, access to monthly webinars with the FAA's Mike O'Shea, monthly podcasts and opportunities to participate on UAS working groups.