By Josh Fiallo

Tampa Bay Times
TAMPA — Tampa's police union has accused the NFL and the local NFL Host Committee of putting profit over the safety of local law enforcement by allowing too many events to be held ahead of Sunday's Super Bowl 55.
The Tampa Police Benevolent Association published an open letter to its members Wednesday that said it was both confused and disappointed at the NFL's decision to add more events, parties and gatherings while the city grapples with the coronavirus pandemic.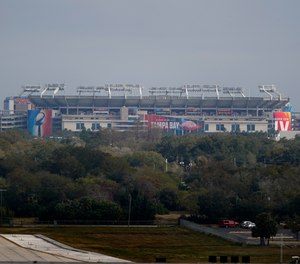 The letter focused on the dangers of COVID-19 — and the threat the virus poses to first responders at each event. It also alleges an influx of non-official events that were added after Tampa Bay Buccaneers booked a spot in the Super Bowl.
"Quite frankly, it is irresponsible and it alludes to putting dollars over officer lives and safety," read the letter, which can be found online here.
The union said the City of Tampa has acted with caution for other large gatherings during the pandemic. This included the postponement of the annual Gasparilla parade, as well as the limiting of watch parties for the Lightning and Rays during their playoff runs.
"Weren't we just asking people to cancel or limit their Thanksgiving and holiday celebrations less than a month ago?" the letter read. "If the risk is too high for pirates, the Rays and the Lightning, what's so different for the NFL?"
Multiple phone calls, emails and messages seeking comment that were left with spokespeople for Mayor Jane Castor's office, the Tampa Police Department and the NFL were not returned Friday afternoon and evening.
The police union's letter said that there have been at least 90 unofficial Super Bowl events added in a five-day period — many of which have national figures, celebrities and entertainers being advertised as being in attendance "to help draw a crowd."
Officers have also had to staff official NFL events, too, the letter said.
Mayor Castor signed an executive order last week that required masks be worn outside while downtown, in neighborhoods around Raymond James Stadium and at all official Super Bowl 55 events.
The order, however, doesn't apply to restaurants and bars in the city, which the police union fears could be where officers are most at risk, according to the letter.
Chief Brian Dugan pleaded with Tampa residents during a security press conference Wednesday to be "responsible" while watching Super Bowl 55. The department's resources will be spread thin helping to secure the event itself, he said, and he does not want the department to "have to be the mask police."
"We are first responders and we are absolutely used to going into harm's way," the letter said. "This is no different, but we always learn to balance risk and safety. This seems extreme."
(c)2021 the Tampa Bay Times (St. Petersburg, Fla.)