By Police1 Staff
ROCHESTER, N.Y. — Crowds in Rochester took to the streets Tuesday after a grand jury voted to not indict the police officers involved in the death of Daniel Prude.
Attorney General Letitia James announced Tuesday afternoon that the officers will not face criminal charges, Syracuse.com reported.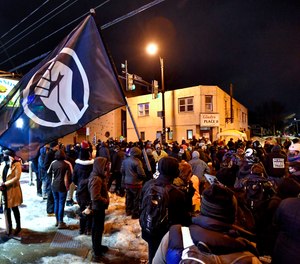 Prude died in police custody last March. He was visiting his brother in Rochester when police found him running naked in the streets during a snowstorm. According to Syracuse.com, Prude's brother had called police because Prude was having a "mental episode." Medical examiners later determined that Prude was in a PCP-induced state of excited delirium and acute intoxication.
Bodycam video showed police covering Prude's head with a spit hood and restraining him on the ground.
Protesters rallied near the streets where police took Prude into custody, according to Syracuse.com. The group marched down a highway to the Public Safety Building in downtown Rochester. The protest ended just before midnight with no arrests and no apparent clashes with police, according to Syracuse.com.
The officers involved remain on leave pending an internal investigation, according to Syracuse.com