By Dave Goldiner

New York Daily News
WASHINGTON — The acting chief of the U.S. Capitol Police admitted that intelligence predicted violence in the Jan. 6 riot — but not "thousands of American citizens descending on the Capitol."
Newly-minted Acting Chief Yogananda Pittman conceded that an intelligence assessment issued three days before the riot "foretold of a significant likelihood for violence on Capitol grounds by extremist groups."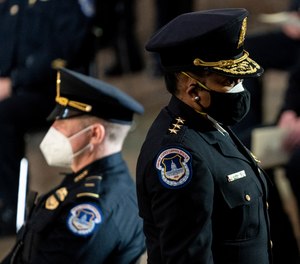 She also said the Capitol Police were told that white supremacists and other far right-wing extremists would likely join the crowd of Trump supporters to try to stop Congress from certifying President Biden's election win.
But despite those flashing warning signs, Pittman claimed there was no way to know the extent of the attack that unfolded after Trump told supporters at his rally to "fight like hell."
"(Intelligence) did not identify a specific credible threat indicating that thousands of American citizens would descend upon the U.S. Capitol attacking police officers with the goal of breaking into the U.S. Capitol Building to harm Members and prevent the certification of Electoral College votes," she wrote in a prepared statement released ahead of a Thursday congressional hearing.
Pittman added that the FBI and other intelligence agencies also failed to anticipate the extent of the violence unleashed by the pro-Trump mob.
Pittman was appointed acting chief after her predecessor, Steven Sund, was forced to resign in the wake of the shocking security failure that allowed rioters to maraud through the citadel of American democracy.
She also said Capitol Police officers were uncertain about the rules of engagement with the rioters who breached the building.
"Officers were unsure of when to use lethal force on January 6th," Pittman wrote, without explaining why they were not trained to defend the Capitol.
Pittman's testimony marks the latest in a confusing and sometimes conflicting series of accounts by top security officials. Sund and the House and Senate sergeants at arms blamed one another and Pentagon officials on Tuesday for failing to deploy enough forces.
Congress plans to create a 9/11-style commission that will look into all aspects of the Capitol siege, including Trump's actions and inaction.
Like other security officials, Pittman asserted that the Capitol Police performed its duties bravely and in the end was successful in ending the riot.
"It protected Congressional Leadership. It protected Members. And it protected the Democratic Process," she wrote. "At the end of a battle that lasted for hours, democracy prevailed."
(c)2021 New York Daily News